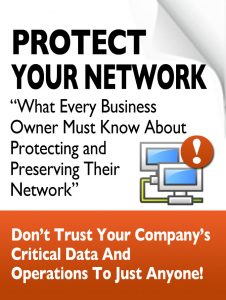 This FREE Report Reveals What EVERY Business Owner Should Know About:
Keeping your network safe from viruses, hackers, spam, spyware and other threats.
Critical security measures to protect against natural disasters, major system failures, theft and corruption of sensitive data, and even employee sabotage.
How to dramatically lower or eliminate expensive computer repair bills.
How to get (and keep) your network running lightening fast.
Fill in the form below to receive your free copy: